Lecture Series "Science for Everyone – Research at the Campus Martinsried"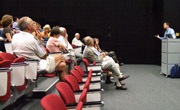 The Life Science Campus Martinsried is internationally known for the excellent research done here. In the lecture series "Science for Everyone", campus PIs explain the goals and background of their research for a lay audience.
The lectures are held in German, are free of charge and without prior registration.
Program overview 2020 (PDf)
Directions to the lecture hall (PDF)
For more information and/or newsletter registration, please visit www.neuro.mpg.de/wfj